COMPLIANCETMATE HELP
Check and Fix Fatigue System Violations
The most critical aspect of Fatigue Management is working within the rules of a given Fatigue Management System. This is where ComplianceMate comes into its own. With the click of a button you can monitor every step of the planning stage and ensure that none of the Fatigue System rules are being violated.
You can check Routes, Plan Codes and Fatigue Trip Plans (both Planned and/or Actual information) for violations against any set of Fatigue System rules by clicking the Check for Violations button on the appropriate screen.
If any violations have occurred the Violations screen will appear. Simply read the Violation screen from left to right to determine where the error/s has/have occurred.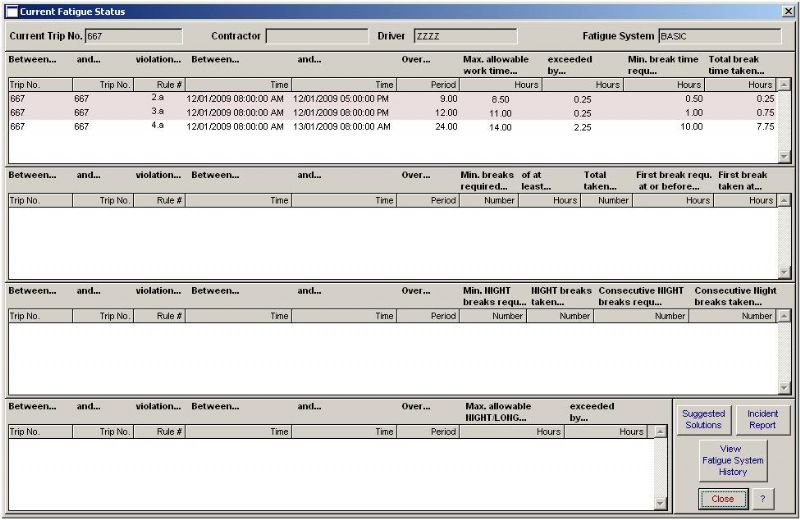 It is IMPORTANT to note that just because a Route or Plan Code in isolation does not produce any violations this does not mean that when inserted into a FTP and evaluated against Driver/Contractor History it will not produce violations.
It is ALSO IMPORTANT to note that something you have done in the current FTP may cause a violation in a previous or future FTP involving the Driver/Contractor in question.
REMEMBER: Checking for violations in an FTP takes into consideration the history and future plans of the driver/contractor in question. It is highly recommended that you check for violations whenever you add/edit/delete any information from a Route/Plan Code or FTP (Planned or Actual).
To help you understand what is causing a particular violation you can check the driver/contractors history by clicking the View Driver/Contractor History button. All driver movements affected by the currently selected violation will appear in red.
*View Driver/Contractor History can also be accessed at any time via the button on the main FTP screen
To fix violation issues when setting up a Route or Plan Code simply edited the breaks/arrivals/departures until all violations are eradicated (see Time Line How To Guide).
*any changes made to Route or Plan Codes will NOT be reflected in existing FTP's.
There are a number of ways to find and fix violation issues in an FTP:
Time Line editing - (see Time Line How To Guide)

Grid Editing - right click the Grid of the appropriate FTP and add/edit/delete

Driver/Contractor selection - choose a Driver/Contractor with a history more appropriate to the FTP in question

Time Line History - (see Time Line History at the bottom of the Time Line How To Guide)

Suggested Solutions - click the Suggested Solutions button on the FTP Violations screen. This will generate some potential solutions to your violation issues. The suggested solution screen is broken up into 2 types of solutions:

Solve By Shifting Trips - takes the user to the Time Line Historys Shift From-To function in order to move exisiting FTP's. The details of the Shift are auto filled in the 'From' and 'To' textboxes (see Time Line History at the bottom of the Time Line How To Guide)

Solve By Adding Breaks - takes the user to the appropriate Time Line and displays a message instructing the user to add a required amount of break time into an existing FTP (see Time Line How To Guide)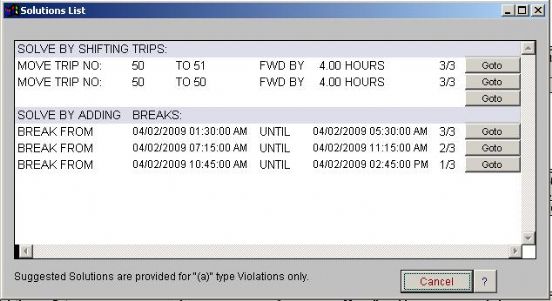 DO NOT edit Actual information in order to correct violation problems.Actual Trip information should be copied verbatim from the drivers Work Diary. Any Violations left outstanding will be recorded as Non Conformances (All Non Conformances are archived for the Fatigue Management Report)
Assigning Violations to Incident Records
If a Violation occurs against Actual information entered in a Trip Plan an Incident should be raised and Actioned. To raise an Incident simply click the Incident Report button on the Violation Screen.
There are a 2 options for assigning Violations:
Trip No - choosing a specific Trip Number will assign All violations who's Trip Number is the starting point for that Violation (the 'From' Trip Number on the Violation Screen)

Date/Time Range - If you choose a Date/Time Range all Violations that full within that Date/Time Range will be assigned to that Incident Number.
NOTE: all Violations already assigned to an Incident are highlighted in Red on the Violation Screen.
To create an Incident simply click the Create Incident Button on the Report Violation Incident Screen and fill in the details (see Incident Managment How To Guide)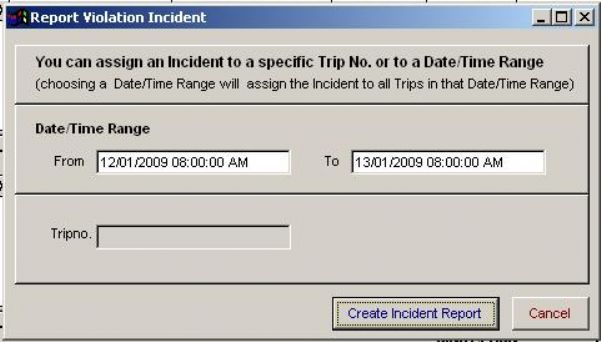 4.04 Fatigue Management How To Guide