FREIGHTMATE LIGHT HELP
Depots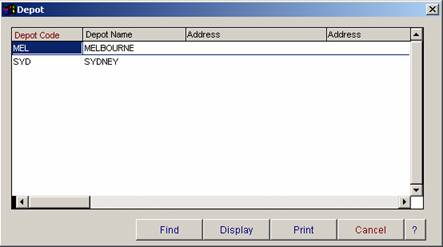 The Depot Master file browse window displays all of the information entered into the Depot master entry screen. This information can be used to link vehicles to a particular depot for costing purposes. You have the ability to display, delete, find and print from this window.
You have two ways of accessing and updating records in this screen.
The display button will open the depots data entry screen at the record that was highlighted on selecting the display button, alternatively you can also display the record by 'right mouse clicking' on the record to bring up a popup menu. Then select display.
To find a record, select the find button and type in a combination you wish to search for. Select the search button. To view the results select view.
To open a fresh data screen, select the display button.
Depot Master File Entry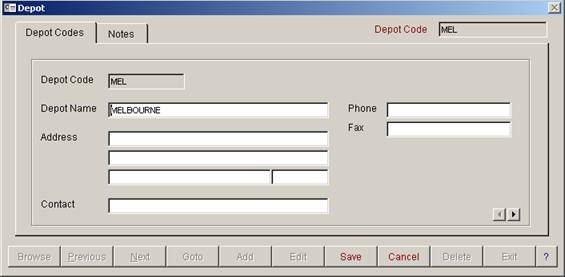 The Depots master file entry screen is used to enter in all the information about your depots. This option has 2 screens of information. These are depot codes and notes. The depot code must be a unique alpha/numeric code. It must be entered. You have the ability to browse, goto, add, edit, save, cancel, delete and exit.
There is also a second screen for entering any general notes you may need to record relating to the depots.