PAYMATE HELP
3.0 User Setup
The user profile will initially be setup with a generic user on installation of the software, and instructions on how to access this option will be advised to a person of authority as determined by the purchaser.
This option allows you to set-up your employees with a user profile and applies security access to the menu options.  To access this option select the 'administration' button and enter the password provided by Norcom, the select the browse button and add to enter a new user profile.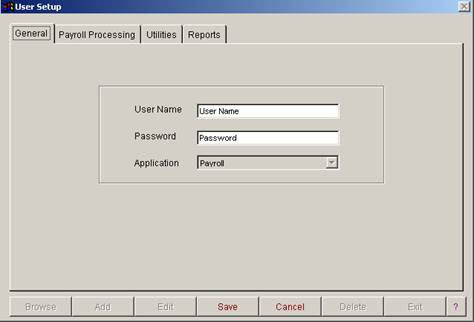 Users must be set up with a unique alpha/numeric user name to access the program.  You can use the same user name for different applications.  E.g. If you have a person using multiple modules in the Transmate suite you can have the same user name for each.  Passwords are optional and case sensitive, but for security of you business, we recommend passwords be used and these be set up with 1-2 staff members only having access to the setup and knowledge of the passwords.
To add a new user, select add.  Enter the user name, password if required and application.  Next, select the tab at the top of the screen for the appropriate application.  You are now able to allocate access to menu options for the user by placing a tick in the check box.  Continue across all tabs until all required check boxes are ticked.  If the check box is not ticked, the user will not be able to access that option from the menu.   Before editing and deleting an existing user, ensure that they are not using the application that you are about to make changes to in their user file.  When finished, select save.