PAYMATE HELP
5.02   Maintain Pay Types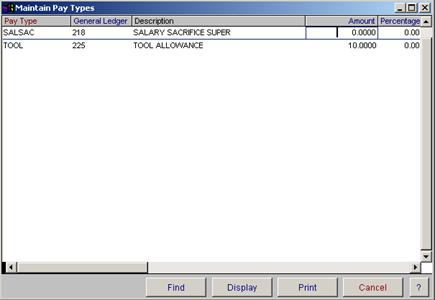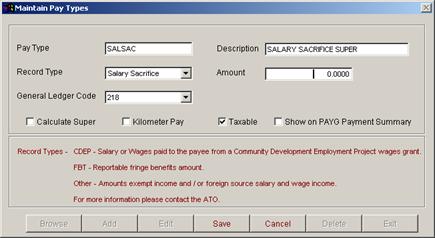 The maintain pay types allows you to set up standard information relating to particular pay types for use in defining allowances and 'other pay' information.
Pay types are then linked to individual employees in the 'maintain additions and deductions' option to set up a standard pay for each employee.
Record Types – Pay types have a subcategory that will define where the information relating to the pay type reports.  These are –
Misc – generally used if pay type is included in the total gross for the employee
Medical – if the pay type relates to medical expenses
Super – Employer Super Guarantee contribution over the required 9%
Union – records union contributions separately
Extra Tax - additional voluntary tax paid by an employee
CDEP - Salary or Wages paid to the payee from a Community Development Employment Project wages grant
FBT – Reportable fringe benefits amount.
Other - Amounts exempt income and / or foreign source salary and wage income
Extra Super – additional voluntary employee superannuation after tax
Loan Account – used to set up a loan account
Salary sacrifice - before tax salary sacrifice – usually superannuation
Child Support – amounts payable to the Child Support Agency
It is extremely important to select the correct record type for each individual pay type. Salary sacrifice, Extra tax, Union, CDEP, Child support and FBT pay types must not be ticked to show on the PAYG Payment summary as they will appear in the appropriate fields on the PAYG summary.    For more information on these types of pay types, please contact the ATO.

 5.03 Maintain additions /deductions