PAYMATE HELP
7.06  Driver Trip Rates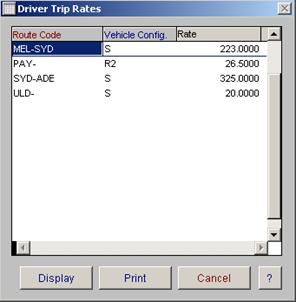 The driver trip rates browse window displays all of the information entered into the driver trip rate master entry screen.  You have the ability to display and print from this window.
Driver Trip Rate Entry

The driver trip rate master file entry screen is used to set up driver trip rates. By entering a route code and vehicle configuration, you are able to set a trip rate that is used in calculating employee pays.

 7.07 Vehicle configuration