PAYMATE HELP
7.12  YTD Adjustments

The Year to Date adjustments entry screen is for the initial set up of your payroll system to incorporate any payroll details already in existence for the current financial year.  When initial setup of Paymate is done any brought forward balances including leave accruals can be entered into the year to date adjustments option, ensuring a seamless transition to Paymate.
To open the YTD adjustment screen, scroll to the employee record, highlight the record and then select edit.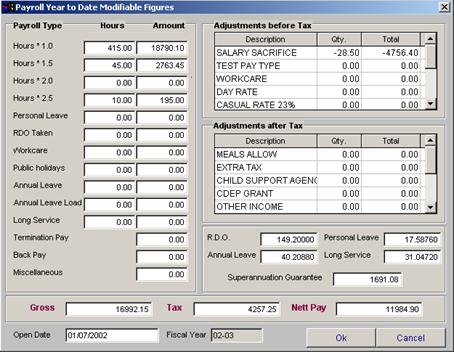 The payroll year to date modifiable figures screen allow you to manually enter opening balance figures for employees, such as YTD gross, YTD tax, YTD nett pay, accrued sick leave, annual leave and long service leave.  After all adjustments have been entered, select OK.  When exiting you may be asked for an open date, simply enter the current date and then select OK.

 7.13 Page set up