PAYMATE HELP
7.09  Training Categories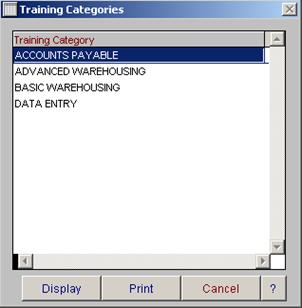 The training category master file allows you to setup training categories for our employees. Other suggestions not shown in the screen adjacent could be driver training, defensive driving, and forklift licensing and manual handling.
Once this information is entered you can then setup employee recommended training courses and completed training courses in the employee master file.
To enter a new record, select display in the browse window and then select add.

 7.10 Sales areas