PAYMATE HELP
5.05  Maintain Vehicles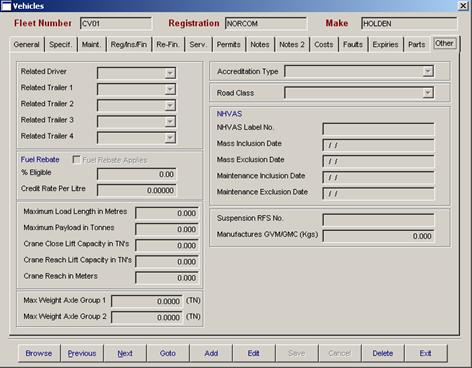 The Vehicles master file entry screen is used to enter in all the information about your trucks.  This option has 8 screens of information.  These are general, specifications, maintenance, registrations/insurance/finance, refinance, services, permits and notes.  It is not mandatory to enter information in every field.  The fleet number must be a unique alpha/numeric code.  It must be entered.  As you move through these screens, you will find that some fields are an integral part of the data processing requirements which will be individually referred to as to their purpose, and others fields are used for reference purposes only or for integrating with other Transmate modules such as Fleetmate, Freightmate and ComplianceMate.
For the purpose of the Paymate manual, only the fields relevant to the entry of payroll will be explained in detail.
Other
For the purpose of payroll entry you are able to assign a driver to a vehicle and associated trailers, which in turn will update to the fleet history reports in Fleetmate and allocate the wages expense against the vehicle for fleet profit and loss reporting.

 5.06 Enter Pays