PAYMATE HELP
7.04   Route Codes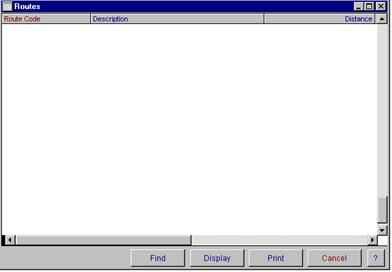 The Route Master file browse window displays all of the information entered into the Route master entry screen.  You have the ability to display, find and print from this window. For more information on these options, refer to Operator Prompts at the front of this manual.
To open a fresh data entry screen, select the display button, then select add.  The following screen will appear.
Route Code Master File Entry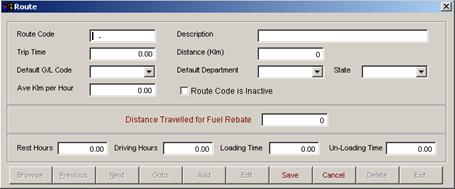 The primary function of the route code is used in docket and manifest entry in the Freightmate module, for tracking of freight, but it also enables trip rates to be set up in Paymate.  Distances travelled will also flow through to the vehicle files in the Fleetmate module for fleet costing purposes when invoices have been generated in the Freightmate module.  Rest hours; driving hours, loading and unloading time will be used for trip planning in the manifest section of Freightmate. The route code must be a unique alpha/numeric code and cannot be left blank.

 7.05 Driver Rates